Bath & Comb Out
Included in Base Price
Trim feet, sanitary areas, and face as needed
Trim nails
Express anal glands
Clean ears
Clean sanitary areas
Inspect skin, gums, teeth, and paws
Check for external parasites
Bathe and Shampoo twice
Fluff dry
Brush and comb entire body
Spritz with scented cologne
Finish with bandana and/or bow
Full Groom
Included in Base Price
Trim feet, sanitary areas, and face as needed
Trim nails
Express anal glands
Clean ears
Clean sanitary areas
Inspect skin, gums, teeth, and paws
Check for mites
Bathe and Shampoo twice
Fluff dry
Brush and comb entire body
Spritz with scented cologne
Finish with bandana and/or bow
Stylish full haircut of your choice
Other Salon Services – Offered at an Additional Charge
Teeth Brushing
We brush your pet's teeth to help with bad breath and fight plaque build-up.
Sonic Cleaning
We clean your pet's teeth clean by carefully removing built up plaque off their teeth, followed by teeth brushing.
Nail Painting
We decorate your pet's nails with your choice of polish.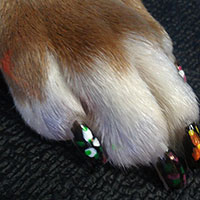 Spa Treatment
We bathe your pet in a top quality shampoo and spray with matching cologne that will have them smelling wonderful for longer.
"Furminator" Treatment
Reduces the amount of shedding your dog does at home.
Express Groom
We know time is precious so we do offer a straight through service with advanced notice. Just mention you would like the straight through service when setting up the appointment and we will make your pet first priority.
Special Shampoo
We have specialized shampoos for pets with allergies, skin issues, sensitive skin, etc.:
Bright White: Whitens dogs (for white dogs only).
Deodorizing Shampoo: Helps cure that stinky dog.
Flea Shampoo: Gets rid of those pesky fleas.
Hypoallergenic Shampoo: Gentle, without fragrance for pets with sensitive skin.
Medicated Shampoo: Helps with skin issues.
Oatmeal Shampoo: Helps with dry or itchy skin.
Skunk Shampoo: Treats pets sprayed by skunks.
Hot Oil Treatment
We bathe your pet in a special shampoo that exfoliates their skin. Then they sit in a conditioner to moisturize the hair and skin. Finally, the pet is given a special oil and vitamin rinse to seal the hair shafts that gives your pet's coat a beautiful and luxurious shine.