Linda Law, NCMG – Director of Administration/President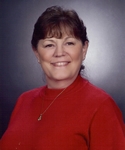 Director of Administration Canine Clippers School of Pet Grooming
National Certified Master Groomer
Grooming for 30+ years
Founder of Canine Clippers, Inc.
Founder of Virginia Groomers Association
1993 'Enterprise Woman of the Year'
Coordinator, speaker, and judge at national pet events
Linda Law is a Certified Master Groomer with the National Dog Groomers Association of America and International Professional Groomers, Inc. Her family members have been professionals in the fields of pet care, training, and grooming for three generations.
Ms. Law founded Canine Clippers School of Pet Grooming in 1982 and the Virginia Groomers Association in 1987. In 1993, Virginia Women in Business of Northern Virginia nominated Ms. Law 'Enterprise Woman of the Year'.
She has shown in national dog grooming competitions and has been invited to judge and speak, not only at the American Kennel Association, but other national grooming competitions as well.
Along with owning and managing a school for pet grooming incorporated in three pet grooming salons located in Northern and Central Virginia, Ms. Law gives private grooming lessons, teaches and counsels not only students, but professional groomers interested in starting their own practices which include Mobile Pet Grooming businesses.
She also raises Toy Poodles and Arabian horses on her farm in Central Virginia.
Mari Dancause Fleck – NCMG – Instructor/Manager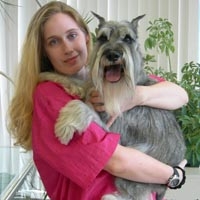 Instructor, Manager Featherle Pet Care of Chantilly
National Certified Master Groomer
Graduate of Canine Clippers School of Pet Grooming
Part of our family since 1994
Winner of multiple awards in national grooming competitions
Specializes in all AKC Breed Standards
Skilled at 'Custom order' non-standard cuts and styling of all breeds
Mari Dancause Fleck, NCMG, Certified Master Groomer, is the manager of our Chantilly salon. She is a graduate of Canine Clippers School of Pet Grooming, and has been part of our family since 1994, when she started as a bather. Since then, she has gone on to become an award winning groomer. Mari has placed in many competitions. Some of her awards include: 1st place in 'Creative Styling' at the 1999 VGA Show, Leesburg; and, in 2004, a 1st in 'Mixed', a 1st in 'Feline Fantasy' at Intergroom, N.J., and a 1st in 'Creative Styling' at Groom Expo, Hershey, PA. Currently she is the at our Chantilly location of Featherle Pet Care. Highest on Mari's list of priorities are the health and safety of the pets at the salon and the happiness of the staff. She recognizes the inherent personality, intelligence and feelings in animals and feels a strong aversion to their treatment as possessions. Developing a good rapport with dogs that even a vet cannot handle is only one of her many special talents.
Mari is quite eclectic in her skills and grooms all breeds, including the unusual. Her artistry comes naturally: her grandfather was an oil painter and her own talents include drawing. But, her most original work now takes place in the grooming salon where she loves the challenge of 'Custom Orders': Non standard cuts and styling. Mari shares her home with her husband Ray.
Jenny Wilkerson, NCMG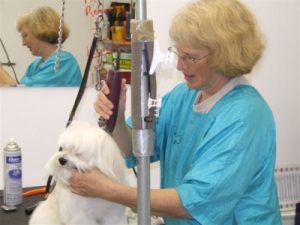 National Certified Master Groomer
25+ years experience
Expert in reading pet's body language
Specializes in grooming Small Breeds of Dogs
Award Winning Groomer
Part of our family since 2005
Jenny Wilkerson, NCMC, is one of the skilled nationally certified master groomers we, at Featherle Pet Care Chantilly, are lucky enough to work with. The grooming bug bit her later on when she got her first Cocker Spaniel. She groomed him his whole life and proceeded to create a life skill from that experience. Her gentle but firm hands are incredible in teaching even the shyest of dogs to appreciate the grooming experience. Jenny is highly motivated with a unique ability to read a pet's body language to determine how it should be handled. Knowing these things makes her more than a stylist. She's a member of a team dedicated to a pet's overall care and health. She finds each pet has its own individual and unique history to tell, and she is there to listen. She does not have a single favorite breed, though her grooming expertise is with two high maintenance breeds, Bichon Frise and Cocker Spaniel, she enjoys working with all dogs.
Sharing her home are four furry friends: Calli and Emily, Parti Cockerspaniels, and Prince, a Chihuahua, and Rusty, a miniature poodle.