Mari Dancause – NCMG – Instructor/Manager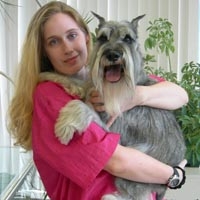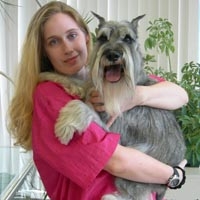 Instructor, Manager Featherle Pet Care of Chantilly
National Certified Master Groomer
Graduate of Canine Clippers School of Pet Grooming
Working with company since 1994
Winner of multiple awards in national grooming competitions
Specializes in all AKC Breed Standards
Skilled at 'Custom order' non-standard cuts and styling of all breeds
Mari Dancause, NCMG, Certified Master Groomer, is the manager of our Chantilly salon. She is a graduate of Canine Clippers School of Pet Grooming, and has been with our company since 1994, when she started as a bather. Since then, she has gone on to become an award winning groomer. Mari has placed in many competitions. Some of her awards include: 1st place in 'Creative Styling' at the 1999 VGA Show, Leesburg; and, in 2004, a 1st in 'Mixed', a 1st in 'Feline Fantasy' at Intergroom, N.J., and a 1st in 'Creative Styling' at Groom Expo, Hershey, PA. Currently she is the at our Chantilly location of Featherle Pet Care. Highest on Mari's list of priorities are the health and safety of the pets at the salon and the happiness of the staff. She recognizes the inherent personality, intelligence and feelings in animals and feels a strong aversion to their treatment as possessions. Developing a good rapport with dogs that even a vet cannot handle is only one of her many special talents.
Mari is quite eclectic in her skills and grooms all breeds, including the unusual. Her artistry comes naturally: her grandfather was an oil painter and her own talents include drawing. But, her most original work now takes place in the grooming salon where she loves the challenge of 'Custom Orders': Non standard cuts and styling. Mari shares her home with two felines: Mac and Miskie.
Stormie Hamilton – Instructor/Assistant Manager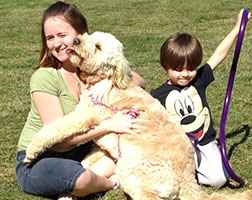 Instructor, Assistant Manager Featherle Pet Care of Chantilly
Graduate of Canine Clippers School of Pet Grooming
Born from family of breeders
Specializes in Terriers and Doodles
Trains horses
Stormie Hamilton is currently grooming at Featherle Pet Care of Chantilly. Introduced to the grooming world early, at the age of 6 or 7, while accompanying her grandmother to pick up the furry family members, Stormie's interest was piqued. Seeing how happy they were to be clean and pretty just delighted her. A little over a decade later she officially became a 2011 graduate of Canine Clippers School of Pet Grooming and is certified in Terriers and Non-Sporting breeds. Stormie has become an award winning groomer. A couple of her awards are 2nd place in Terriers (level C) at Hershey and 3rd place in Terriers(level C) at Tyson's Corners. Unlike her name Stormie is a ray of sunshine and is a joy to be around. Having been around a plethora of animals of various species her whole life she is very skilled at reading an animal's mood. Her family has been breeding Goldendoodles and Labradoodles since she was a little girl, giving her an early lesson in the ability to judge temperament. The greatest grooming challenge for Stormie is transforming pets from those that do not want to be groomed, that need extra patience and sometimes even an extra hand, into pets that enjoy the whole experience of being groomed. She also feels this is one of the most satisfying aspects of her profession.
Stormie shares her home with her husband, Evan and "Darbie" (a Papillon/Chihuahua mix).